Skull Goblet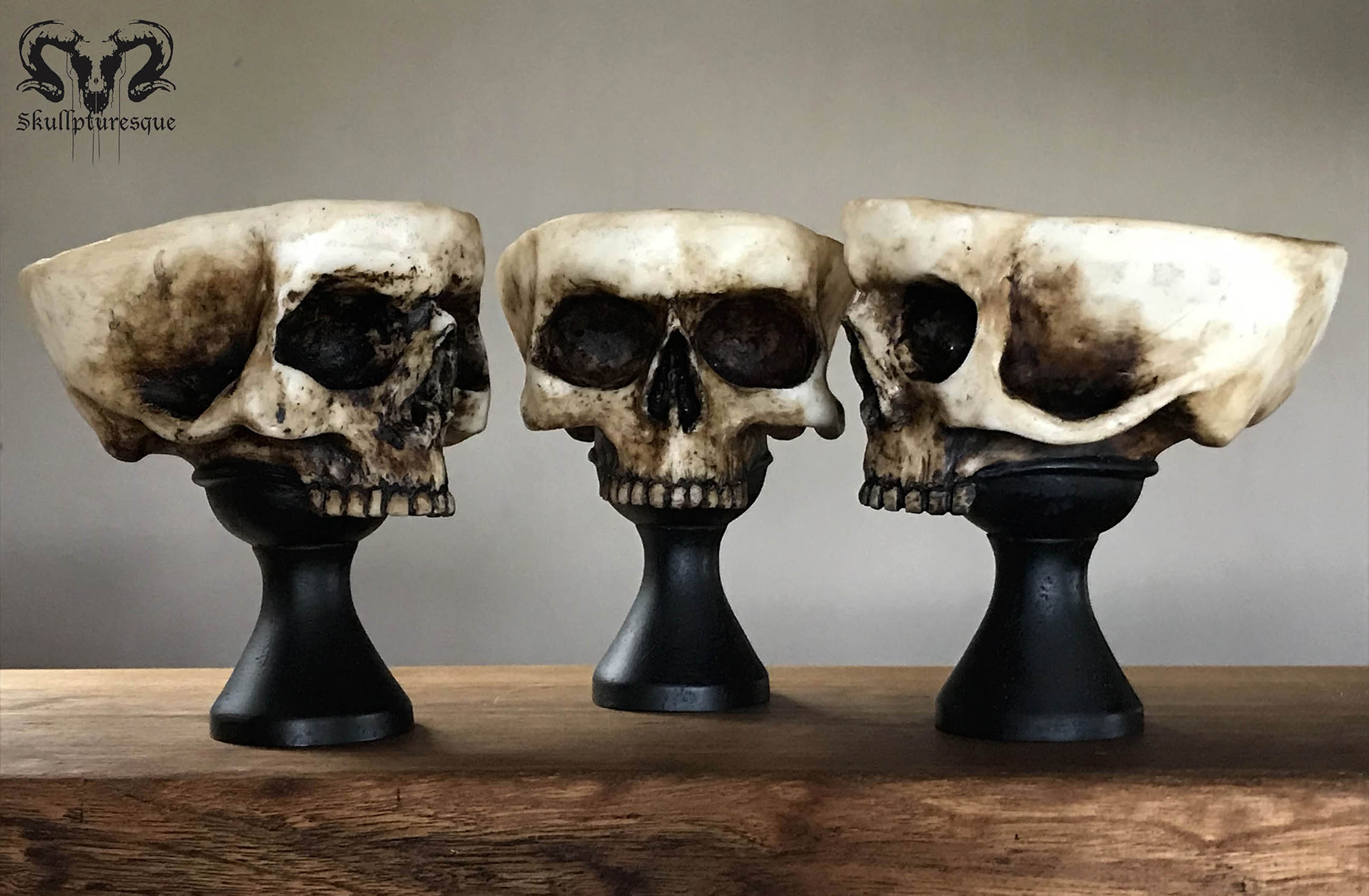 Hand sculpted human skull goblet, moulded and cast in a plastic composite that is durable, washable and long lasting.

The material is inert once set and I line the inside of the goblet with an FDA approved food grade coating.
The aged finish I create using a non-toxic, lead-free, fish-friendly water-proofer.

Full to the brim it holds a volume of 400ml which is roughly 13.5 fl. oz. A more manageable volume would be half this.


Dimensions: 16cm x 15cm x 13cm


Trims , hand engraving and extra finishing touches optional too, just send me a message to discuss. (extra costs involved)

Once your order is placed it takes anything from 1 - 2 weeks to complete.                                                                                                                   
Shipping to most countries from South Africa takes an average of 4 weeks using ordinary mail services. Courier express delivery can be arranged if requested.
US$ 58 (excluding shipping costs)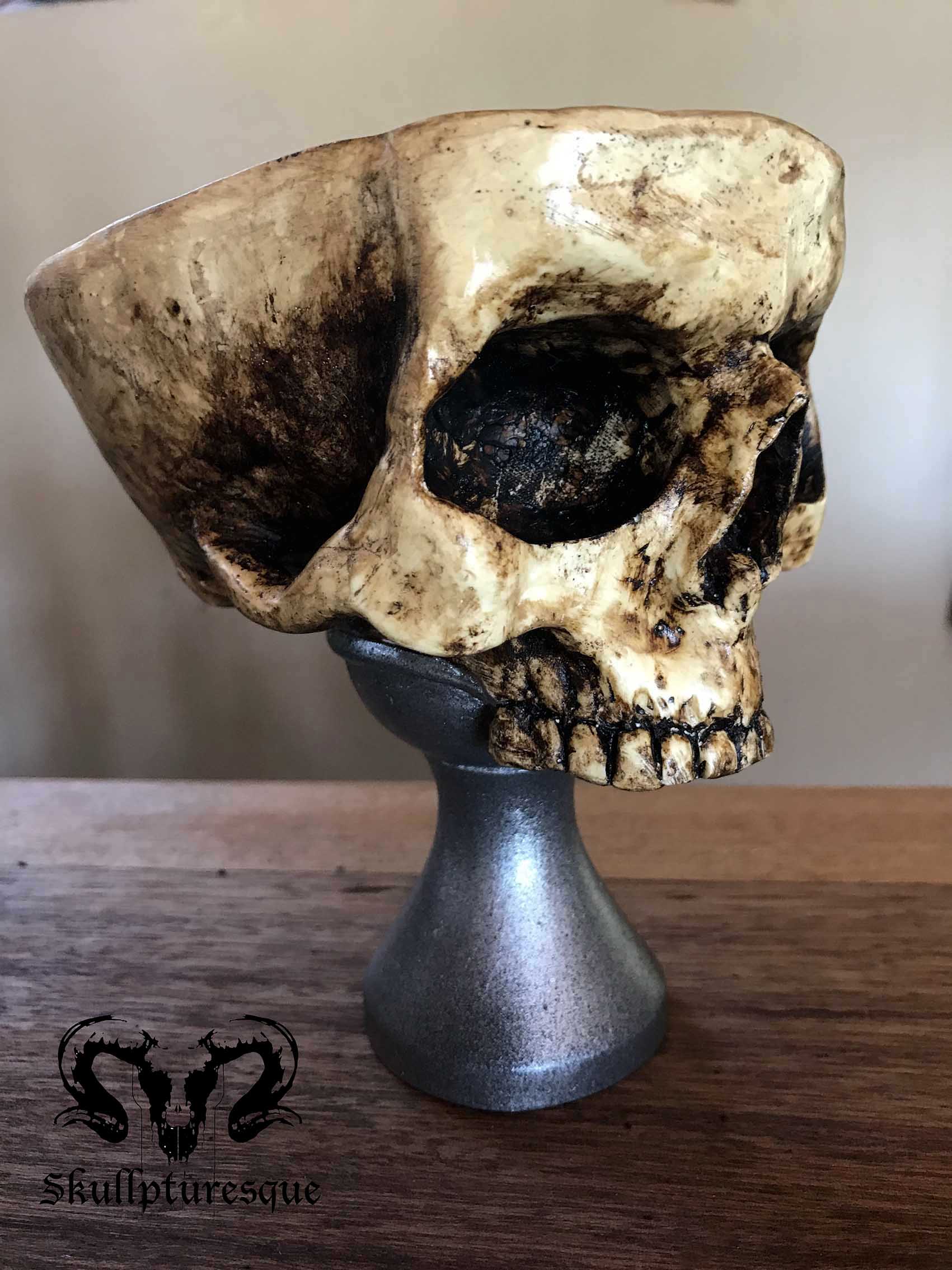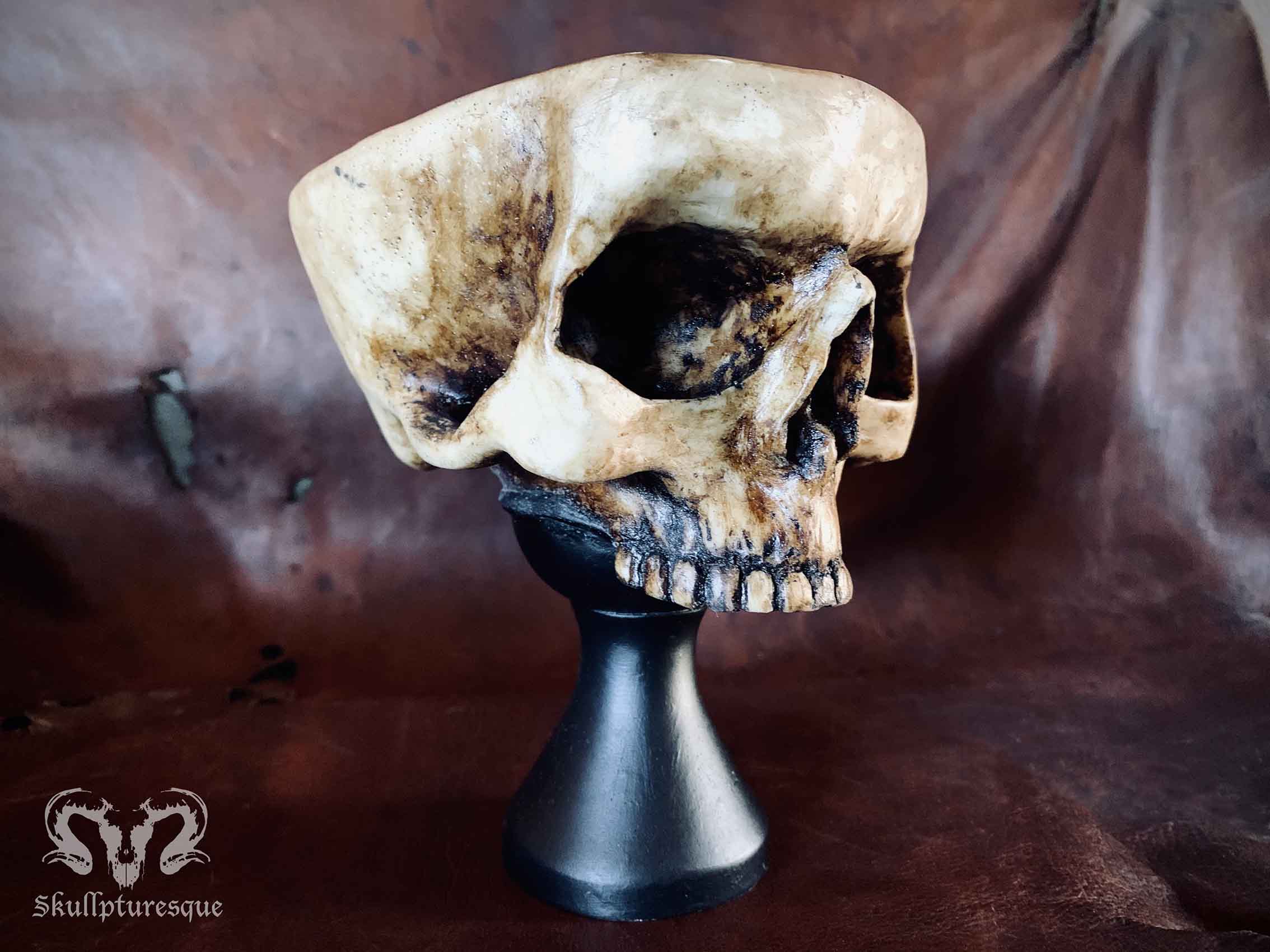 Examples of customisations requested....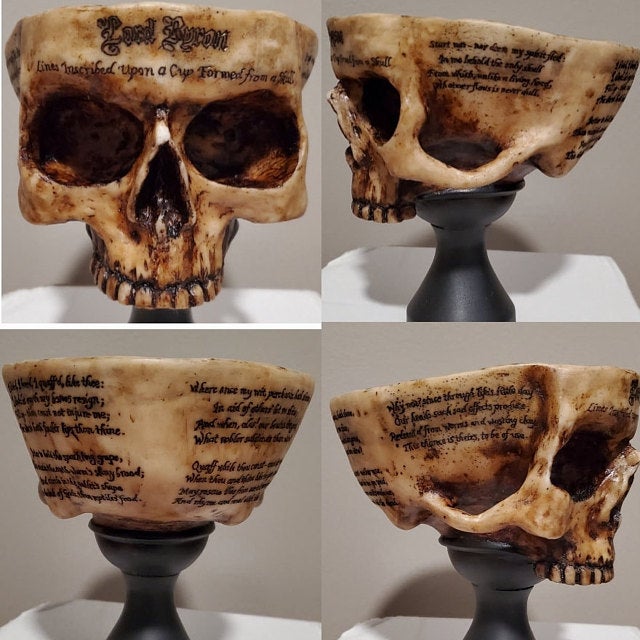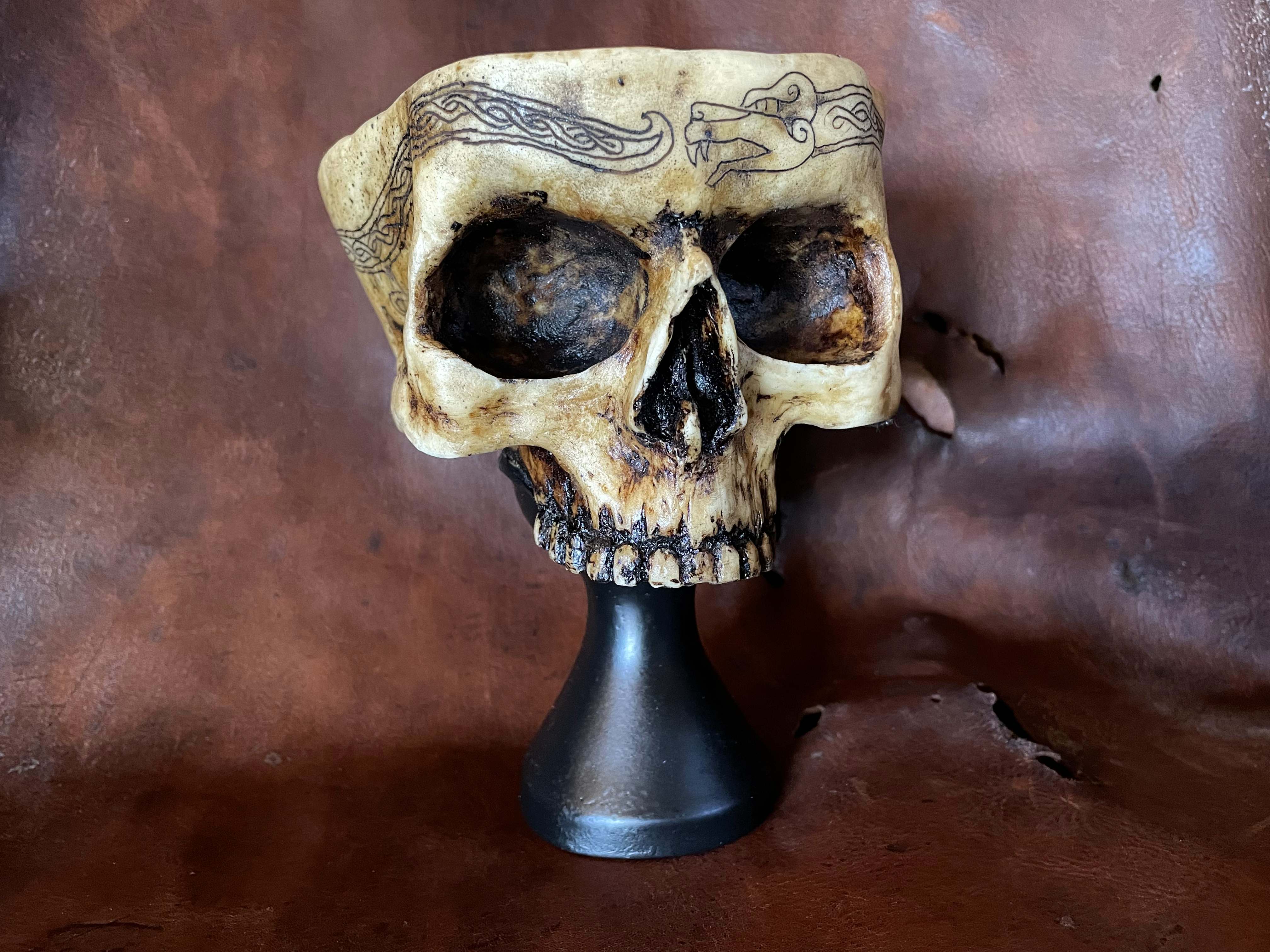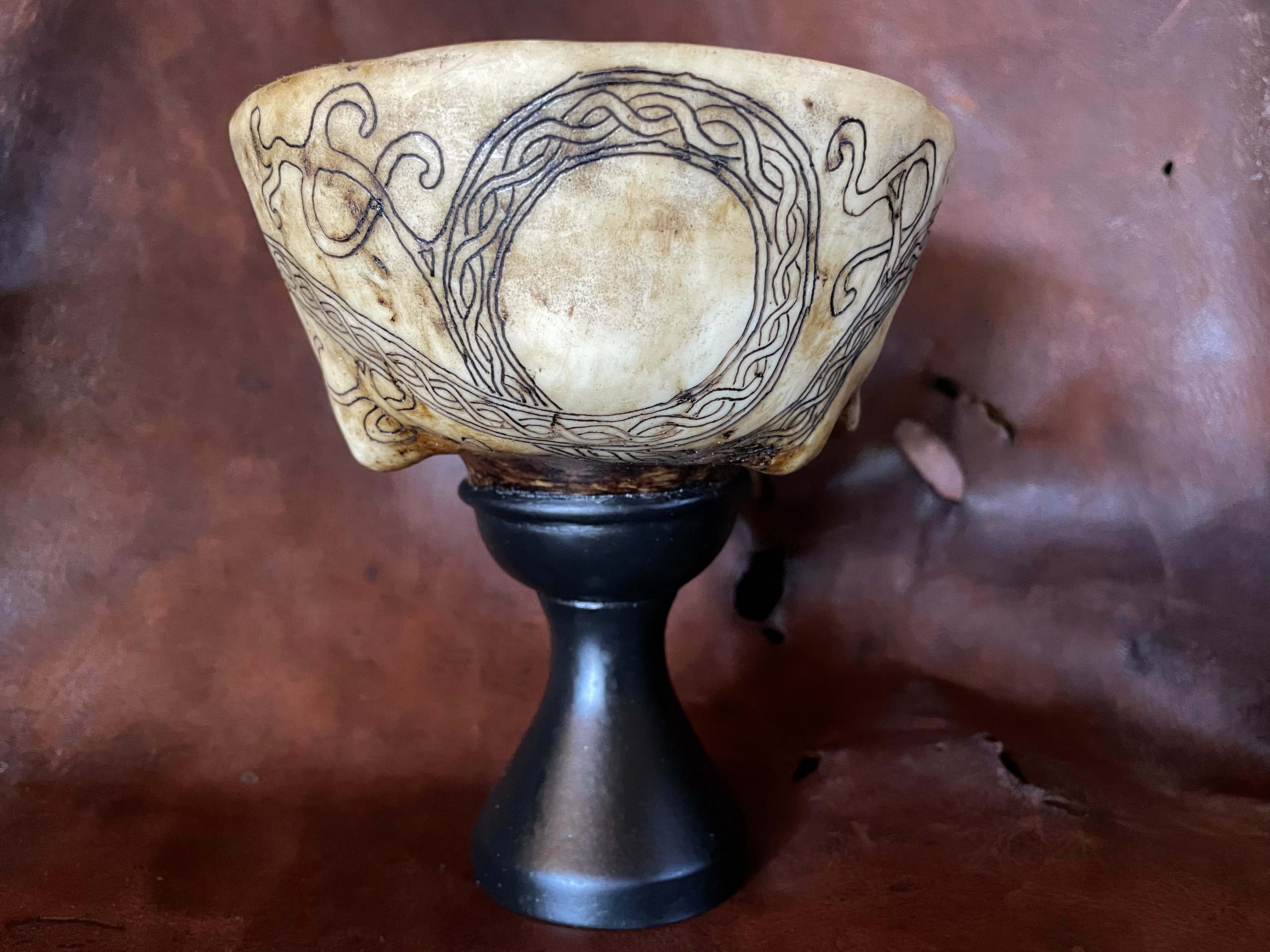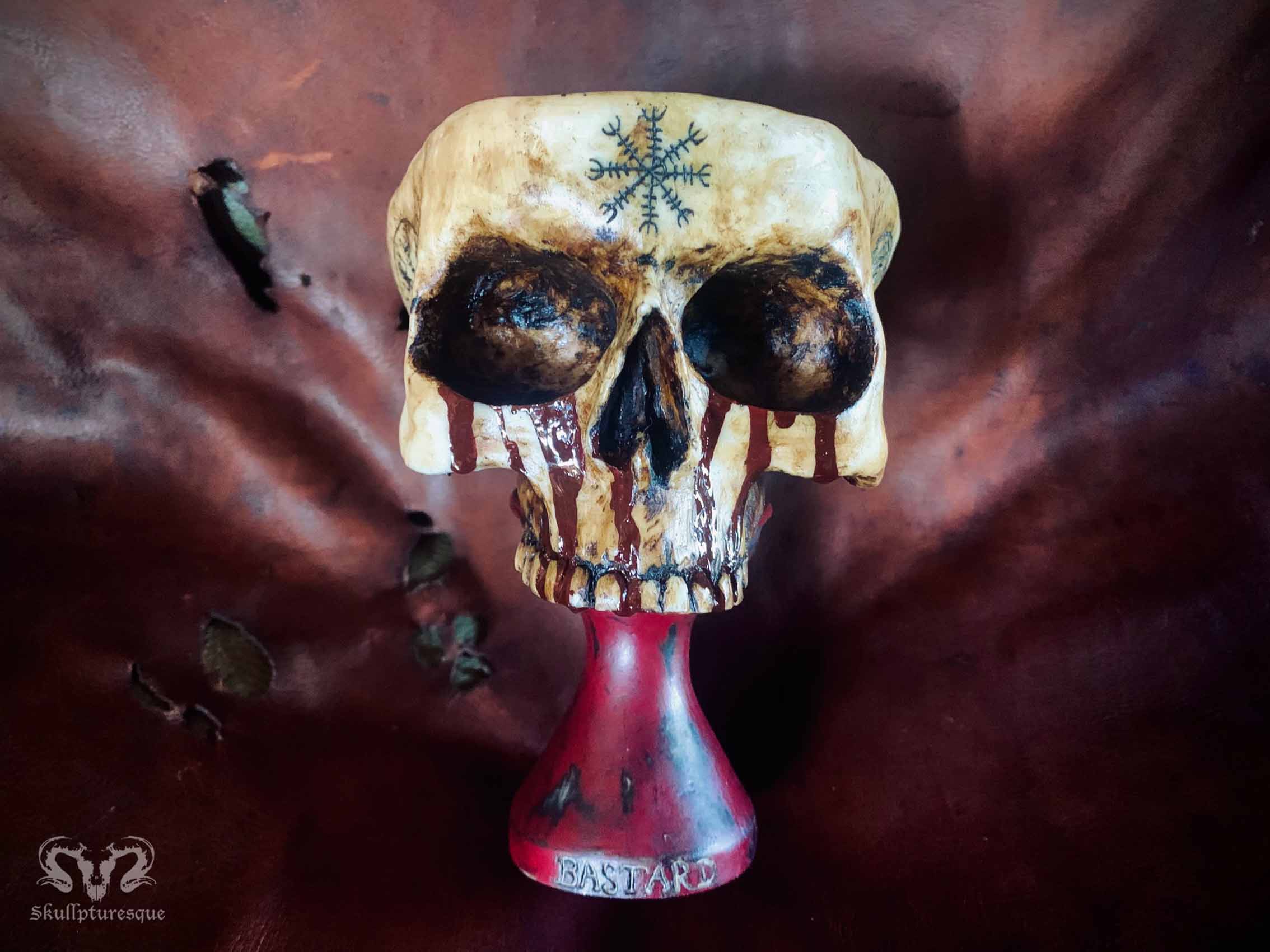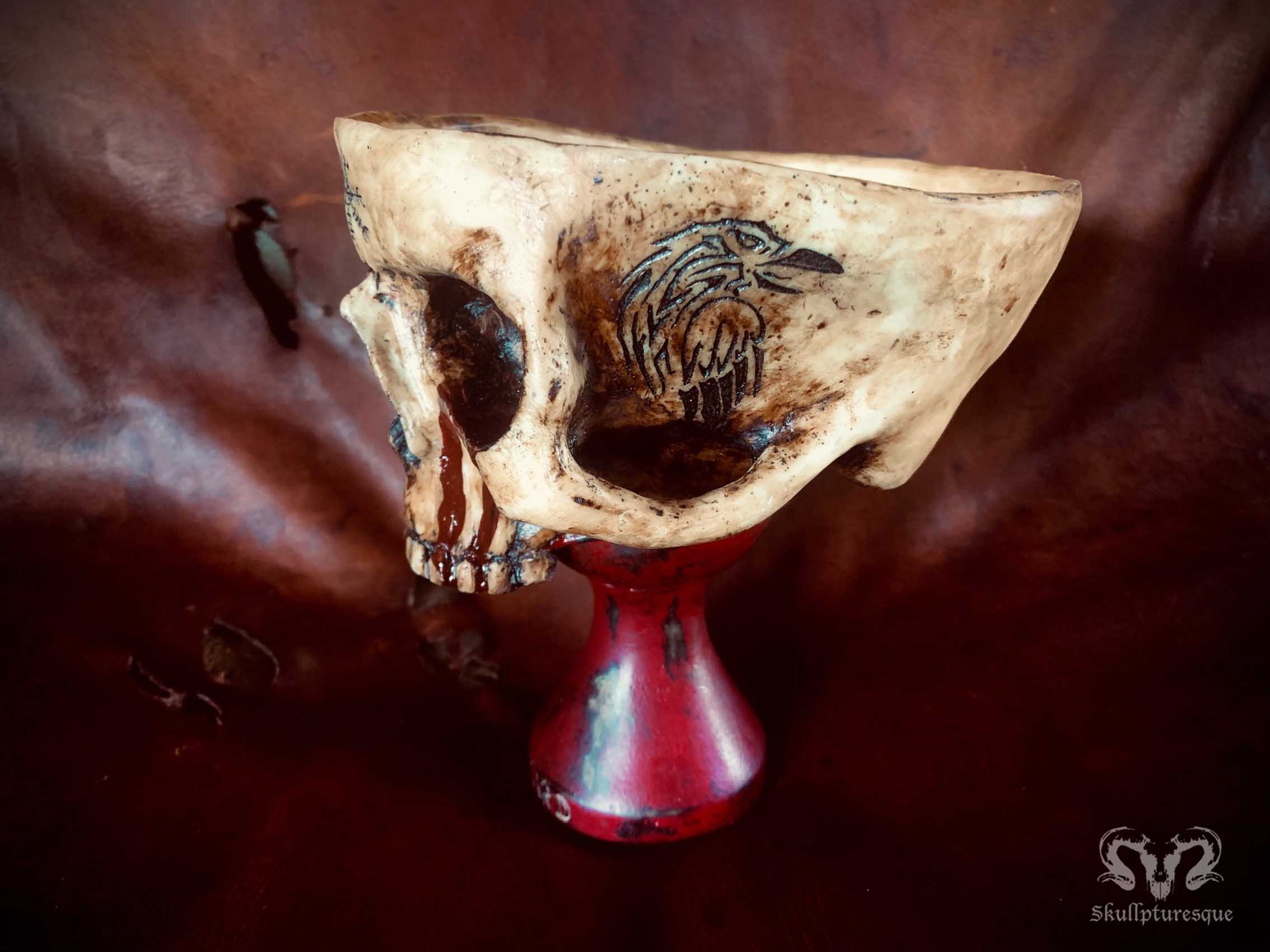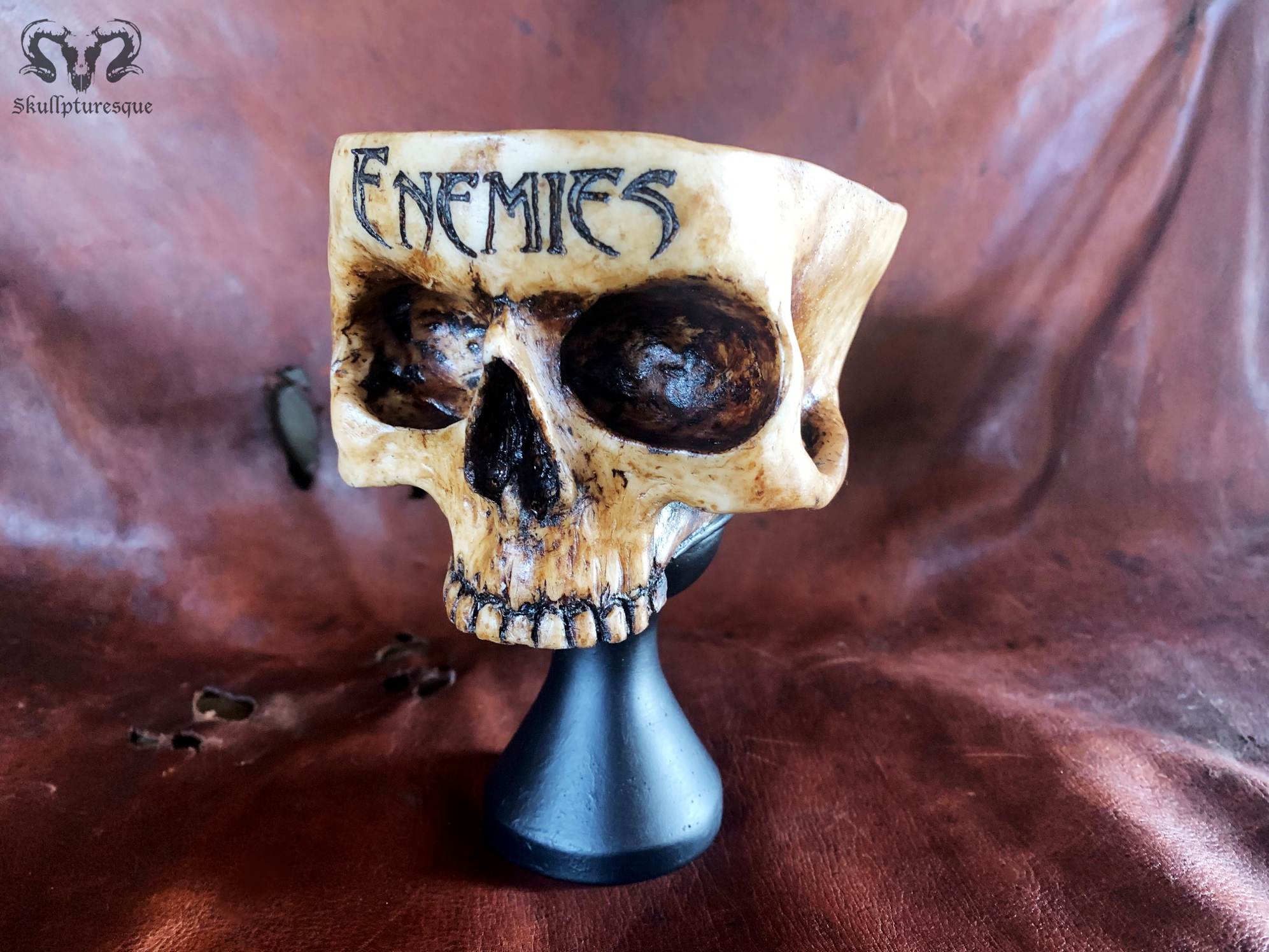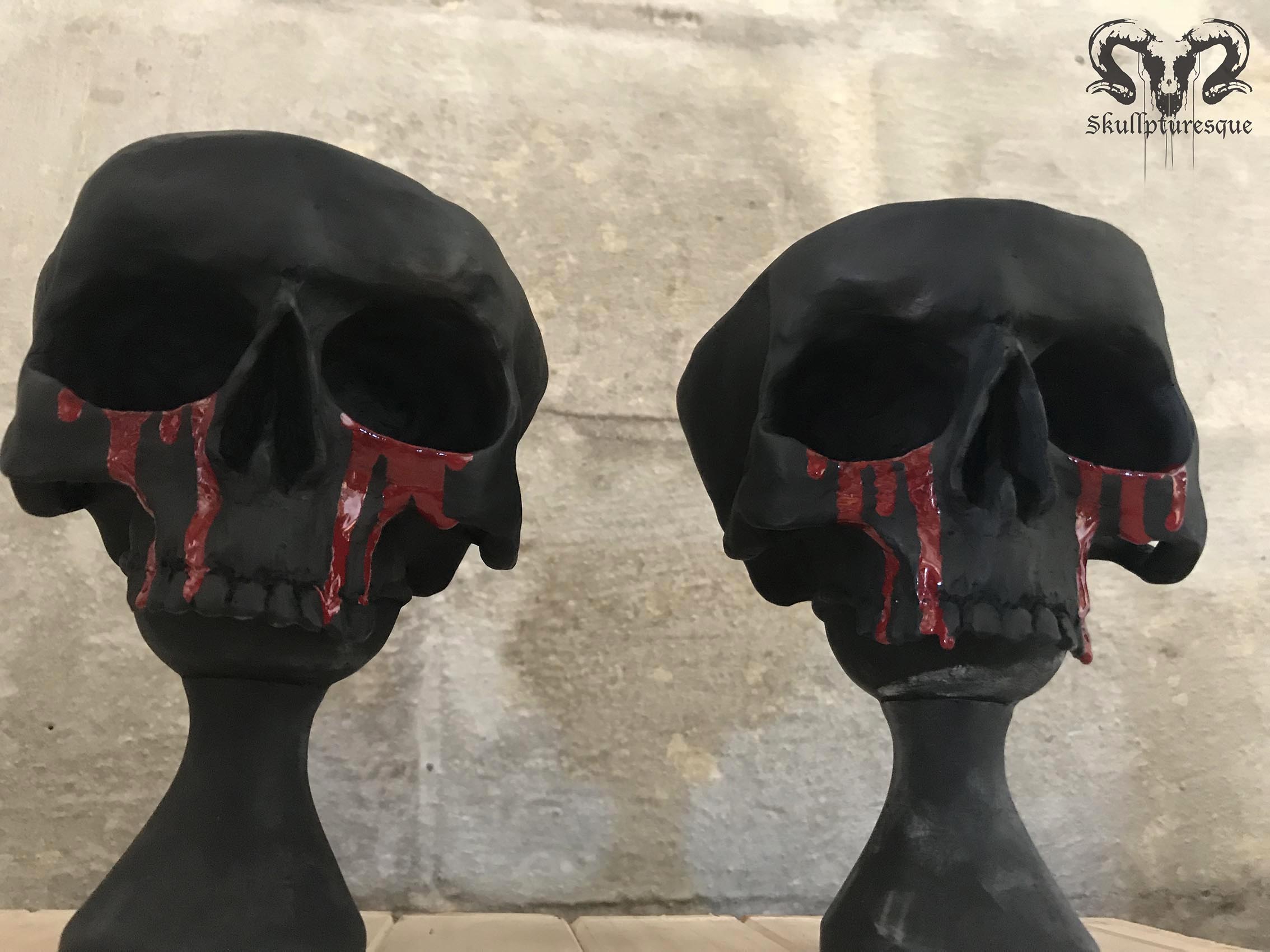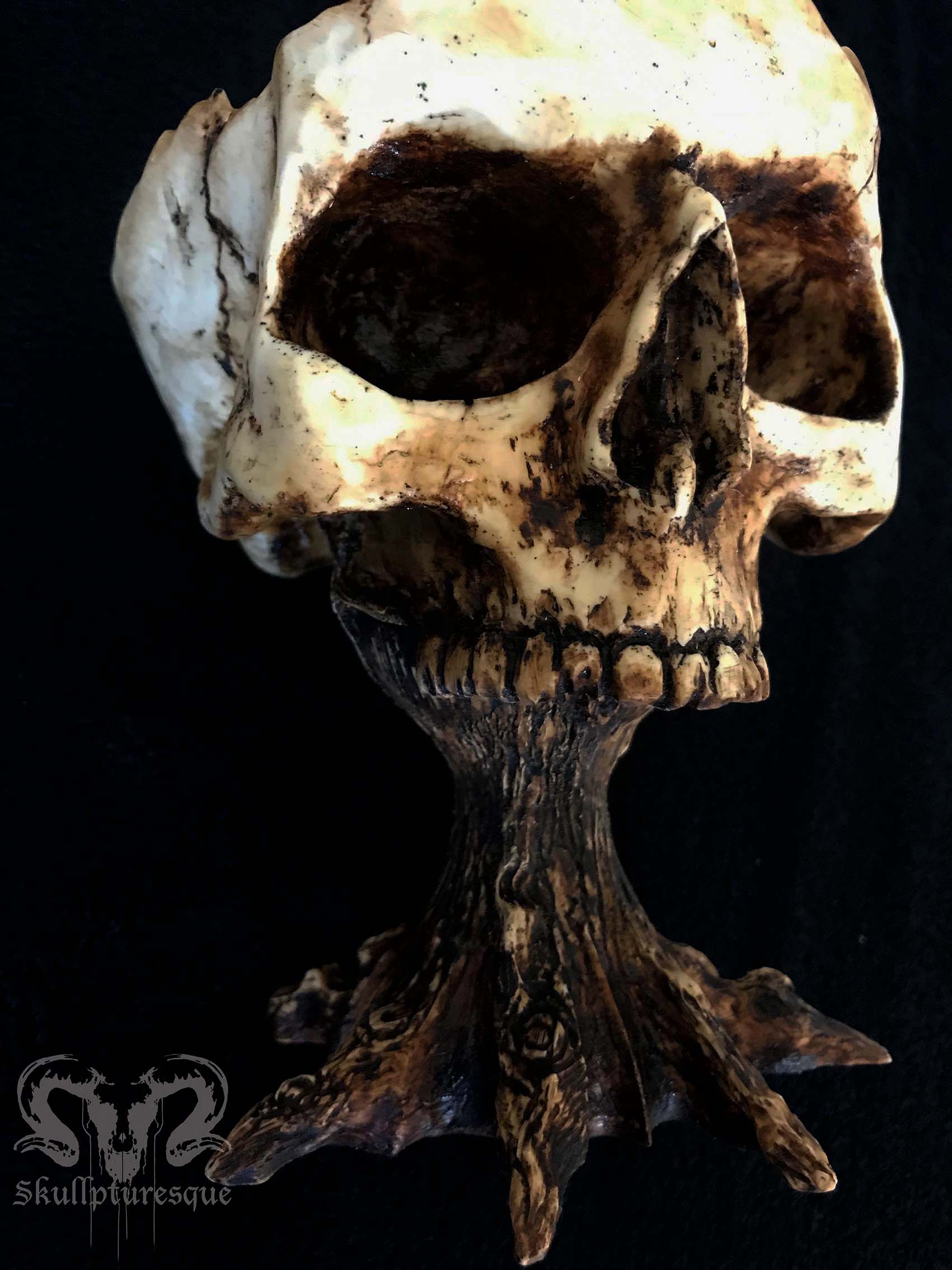 Customer reviews from my Etsy shop...

"Skullpturesque is by far the most amazing artisan I have ever had the pleasure to collaborate with. She went above and beyond to create a one of a kind masterpiece as a gift for my girlfriend. She inscribed my girlfriend's ENTIRE favorite poem on the beautiful skull goblet(see pic). Needless to say my girlfriend absolutely loved it and cried so many tears of joy, it was truly priceless!
Justine is not only a very adept artisan who puts love into her craft but she is also just a beautiful soul in everyway!
I can never thank her enough for giving my girlfriend the best birthday ever! ❤️"
-Chris on 17 Apr, 2021-

"Craftsmenship is fantastic, Communication from start to finish was wonderful. Always prompt with the reply even with the 7 hour time difference. She was lots of fun just to comunicate with. Packaging was fantastic. Shipping took less than a month! She knew I ordered these for my birthday, she put a Birthday gift in the package. Already planing my next order."
"Der 8st so fantastisch der baphomet, ich liebe ihn sehr sieht sehr gut aus,nochmals danke🥰🥰🥰"
-sabbats on 11 Oct, 2021-
"Super job!! Super qualité et grande rapidité d'envoi."
- light 031 -
I"'d give it 10 stars (or more!) If I could.
Absolutely gorgeous. The details and paint job are exquisite. Well crafted and put together. A beautiful piece. Quick communication and shipping. An absolute delight to purchase from. Much love <3 "
- l2eiven -

"Wonderful detail and a truly macabre accent to any home decor. Thanks!"
- David -

"


Simply an awesome skull goblet for absinthe or wine, great addition to my esoteric collection. Well made with great care!! "
- MikeE-

"Could not be happier. This is freaking AWESOME."
 - setryon -
"Its an awesome piece! I know it'll be an heirloom in my family."
- Eric -
"I LOVE LOVE LOVE it!!! Fantástico!!! A+"
 - distortion -
"Beautiful!
I'll drink a toast to you, Justine.
From the skull of my enemy!"
- Richard H.-

"Amazing quality! It looks awesome! She is such an awesome artist and salesperson! Very good with communications!"
 - Missy -
"Incredible quality and workmanship. Even the way it was shipped to me was classy. Love it and highly recommend it to everyone."
 - Brian -
"This is an AMAZING GOBLET! Light weight, sturdy and really really well done. It's going to go perfectly with my outfit. Thank you."
 - Crystal -
"It is simply Badass!! Now I must acquire a bowl!!! Thank you"
 - carlakahl1 -
Steven and his goblet
Skullpturesque reviews and stories
If you have purchased any of my pieces, please use this invitation to share your feedback, stories, and pictures. Thank you!
What Other Visitors Have Said
Click below to see contributions from other visitors to this page...